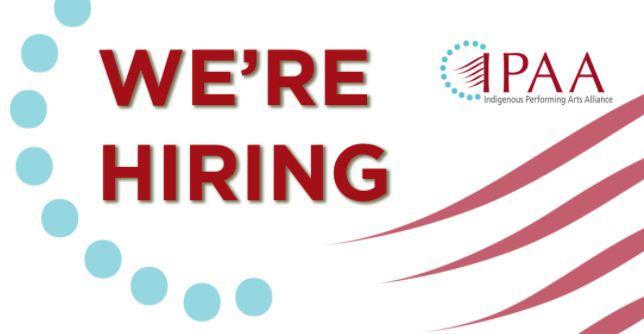 Student Job Posting
We're hiring two positions

:
Administrative Assistant
Communications & Membership Assistant
---
This Job Call is now closed.
---
Details
Duration: Flex-time position, starting late-August, 2021 – latest March 31, 2022
Hours: Approx. 10- 40 hours/week, to be discussed with the applicant
Rate: $20/hour with a max. salary of $10,000
Remote, work-from-home.
Additional Info for Students
This is a flexible position for post-secondary students and can be designed to fit between course studies. The contract will end no later than March 31st but may end sooner depending on the number of hours worked per week. Students do not have to be studying an arts-based subject to apply.
Everyone is welcome to apply, but applications from First Nations, Metis, and Inuit applicants will be prioritized.
To be considered you MUST be enrolled in a post-secondary education institution.
Application Procedure
Please submit a cover letter and resume to info@ipaa.ca.
The deadline for applications is August 23rd, 2021.
Who Are We
The Indigenous Performing Arts Alliance (IPAA) is a member-driven organization, serving professional Indigenous performing artists and arts organizations across Canada. IPAA serves as a collective voice for its members and for Indigenous performing arts in Canada. IPAA provides leadership, support, representation, advocacy, and practical assistance for the national development of Indigenous performing arts.
---
Administrative Assitant
IPAA is looking to hire an enthusiastic student who will assist with the organization's general day-to-day administration, conduct independent research, collect information about IPAA's history and assist with the writing of the Story of IPAA.
---
Duties and Responsibilities
Office Admin
Assist Executive Director with general administrative tasks, including but not limited to
Manage IPAA's drive and gather additional industry resources,
Prepare a funding timeline for the coming year's programming activities
Attend and keep minutes during staff meetings
Be a good ambassador for the organization; maintain a presence at IPAA member & community events
Catalogue resources in IPAA's drive, including building a bibliography
Perform other duties as needed.
Story of IPAA
The administrative assistant will work closely with the Executive Director and Project Coordinator to implement activities in the Story of IPAA workplan. This includes, but is not limited to
Research and capture the history of the organization by gathering documentation and conducting interviews with past leadership
Assist in synthesizing the research and findings from gathering
Assist is writing the Story of IPAA
---
Communications & Membership Assistant
The Indigenous Performing Arts Alliance is looking to hire an enthusiastic student who will assist with the organization's day-to-day communications, keep up-to-date with industry news, create content for IPAA's social media platforms, track social media metrics, assist with website and membership updates.
---
Duties and Responsibilities
Digital Marketing & Communications
Assist the Marketing and Communications Officer with implementing the online strategy set forth by the Executive Director which includes commitments to partners, funders, and membership
Create website posts using WordPress online software in preparation for the monthly member newsletter using MailChimp online software
Assist with keeping the website up-to-date, building event pages, and writing content for the website
Keep up to date on industry news and prepare information for IPAA membership
Assist with online workshops pre- and post-production
Monitor and create content for all IPAA social media accounts (Facebook, Twitter, Instagram), while tracking metrics and engagement
Be a good ambassador for the organization
Other duties as assigned.
Membership
Encourage new IPAA membership with a focus on academic institutions
Engage with IPAA members to stay informed on their work in the Indigenous performing arts and create online posts to promote and share
Contact members to keep profiles up-to-date while maintaining a membership database.
---
These professional development opportunities are made possible with funding supporting from the Cultural Human Resources Council (CHRC).