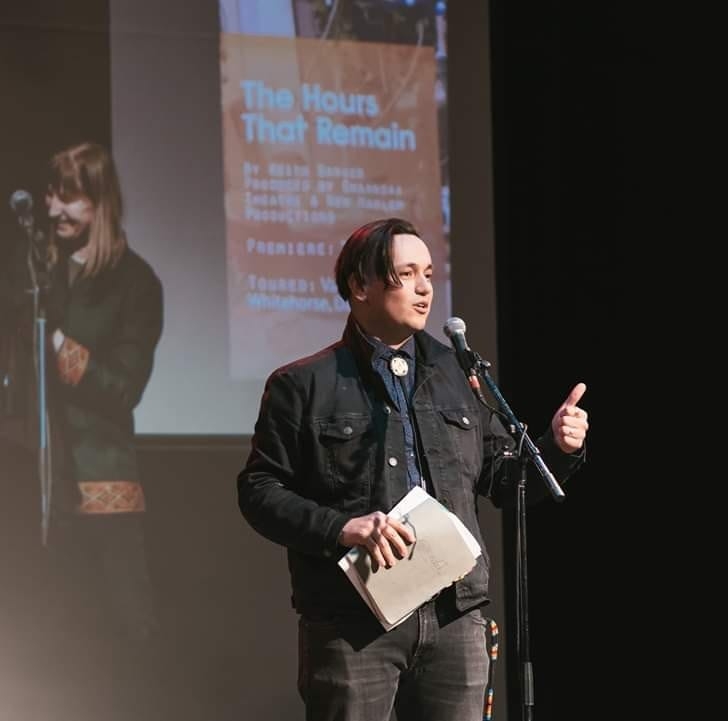 IPAA's Resource Catalogue is a collection of online articles and tools that inspire, educate, and support our members and the Indigenous Performing Arts community.
You can submit your work to the collection through our online form.
Artists & Industry
An Awkward Call to Arms: Open Letter – Donna-Michelle St. Bernard, Cole Alvis and Michele Decottignies
This 2016 open letter, addressed to the Arts Program Office at Canada Council, promotes extended solidarity and conversation around Equity, Diversity and Inclusion (EDI).
Achieving Equity in Canadian Theatre – Dr. Michelle MacArthur | Equity in Theatre
This report investigates the absence of women from Canadian stages, provides a picture of (in)equity in Canadian theatre, makes international comparisons, and outlines a series of recommendations to increase the representation of women and other minoritized groups.
Dancing sovereignty : protocol and politics in northwest coast First Nations dance – Mique'l Dangeli | UBC
This thesis brings critical attention to the work of Northwest Coast First Nation dance artists through an in-depth study of how they assert, negotiate, and enact protocol through their artistic processes and performances and the ways in which their work engages with local, provincial, and national politics.
How Art Institutions Can Manage Their Metadata – Gregory Saumier-Finch | Society-Byte
This article covers the ways that arts organizations can manage their metadata with various tools.
Indigenous Body of Work – Indigenous Performing Arts Alliance (IPAA)
A living list of Indigenous-led works.
Indigenous Terminology by the Dancers of Damelahamid – Dancers of Damelahamid | Coastal First Nations Festival
Some basic terminology to know if you are working with Indigenous folks.
IPAA Tech Bundles: Enhancing cultural sovereignty through technical infrastructure – JP Longboat | Hill Strategies
A case study on IPAA's Tech Bundle project which was initiated in January 2021 to provide a kit designed for online streaming, presentation, and related services to Indigenous Peoples throughout Canada.
Looking at Indigenous Performing Arts – Primary Colours | Indigenous Theatre NAC, CCA
The purpose of the research report is to give respect to the history of Indigenous performing arts, to gather existing studies, and to point to the way forward/the way back for concrete actions that sustain Indigenous performing arts.
On Accountability: In Search of Lost Ethics in Performing Arts Programming – Angela Conquet, Merindah Donnelly, Yanira Castro, Ananya Chatterjea, Thomas F DeFrantz | Australian Performing Arts Market
This conversation highlights some concrete changes that presenters/curators need to contemplate in their programming practices and skillsets in order to present embodied cultural specificity in culturally competent ways.
Preserving their Birthright: The Legacy Project – Jill Carter & The First Circle: Tkaron:to
The gathering summary report explores ideas around how we, as a community, can and should build a protected but accessible Indigenous-stewarded repository of online resources that chart the history and development of Indigenous performing arts and culture-making.
The Role of Indigenous Artists and the Development of an Indigenous Pedagogy for Modern Artistic Expression – Joahnna Berti | Hill Strategies, Primary Colours
This blog post explores two main questions: "the role of Indigenous artists in the community and how this role impacts training". The report highlights how the historical development of Indigenous arts and arts learning provides the foundation of current arts-learning initiatives.
Tax Prep Basics for the Self-Employed Artist – Heather Marie Connors | Lowerton Bookkeeping
Heather Marie Connors from Lowertown Bookkeeping talks tax prep with the arts crowd.
---
Getting Started in Oral Traditions – Elisa Hart | Prince of Wales Northern Heritage Centre, Government of the Northwest Territories
This manual was written for adults and students in the Northwest Territories who want to research the knowledge that is part of the oral tradition of their culture.
Guiding Principles for Presenting Indigenous Work – Ontario Presents
Ontario Presents' guiding principles when it comes to presenting Indigenous artists.
How to Run an Open Space Event – Transition Network
A guide on Open Space events, a powerful tool for engaging large and small groups of people in discussions. This can be used with groups from anything between 10 and 1,000 people.
Indigenous Ally Toolkit – Dakota Swiftwolfe | Montreal Urban Aboriginal Community Strategy Network
Useful information about what it means to be an Ally to Indigenous people, created by The Montreal Urban Aboriginal Community Strategy Network.
Indigenous Corporate Training – Free Guides – Indigenous Corporate Training
A series of guides on working with Indigenous partners in your community.
Indigenous Cultural Programming – Dominga Robinson, Christine Van der Merwe, Chantal Amstad | Culture Days
A recording of a webinar on essential things to know about Indigenous Cultural Programming, presenters are Dominga Robinson, Christine van der Merwe, and Chantal Amstad.
Smudging Document – Jane Zhang, Mimi Chen, Matt McPherson | IPAA, TAC, OAC, CCA
Information about the practice of smudging, as it relates to performance venues.
Towards Braiding – Elwood Jimmy and Vanessa Andreotti with Sharon Stein
This document explores modes of relational engagement between Indigenous and non-Indigenous artists, scholars, and communities; outlining guidelines and practices for ethical and respectful engagement with Indigenous senses and sensibilities that can help us to work together.
Voluntary Addendum – Ad Hoc Assembly
The Voluntary Addendum is a tool offered by AHA to the community in 2020 to expand the protections implicit in PACT/CAEA's Not In Our Space program. Offered clauses can be added to artist and organizational contracts to better define relational accountability.
---
Land, Treaties & Acknowledgements
Beyond Territorial Acknowledgements – âpihtawikosisân
A thoughtful unpacking of the role of territorial acknowledgements.
First People's Map of B.C. – First People's Cultural Council | Government of B.C.
A map with information on First Nations languages and communities in B.C.
Land Rights History – Jeanette Armstrong | UBC
A primer on Indigenous land rights in B.C.
Native-Land Digital Map – Native Land Digital
A work-in-progress map of territories, treaties, and languages across Turtle Island.
Ontario Federation of Indigenous Friendship Centres
Learn about Friendship Centres and find one in your community.
---
Workshops, Courses & Opportunities
Canadian Roots Exchange (CRE) is a community of Indigenous and non-Indigenous youth committed to building honest and equitable relationships. They have an annual gathering as well as initiatives in various communities across the country.
KAIROS Blanket Exercise – Kairos Canada
A participatory history lesson that you can bring to your workplace or community.
A community located on Cape Breton Island, Nova Scotia that offers workshops, exhibits, and facility tours.
Reconciliation Canada Workshops – Reconciliation Canada
Reconciliation Dialogue Workshops and Reconciliation Learning Experiences that you can bring to your organization or community to create a safe place to engage all peoples in dialogue that increases understanding of our shared history.
Reconciliation Through Indigenous Education – University of British Columbia
A free, online 6-week course from UBC that is geared toward educators. Enhance your understanding and knowledge of practices that advance reconciliation in the places where you live, learn, and work.
Truth and Reconciliation Through Right Relations Leadership Intensive – Banff Centre
This intensive program at Alberta's Banff Centre involves learning through ceremonies, lectures, outdoor walks, creative arts practice, application of theory, individual reflection, and group activity.
---
Read & Learn
4Rs Youth Movement – Resource – 4Rs Youth Movement
Changing the relationship between Indigenous and non­-Indigenous young people.
Building diverse & Equitable Non-Profit Boards: A Panel Discussion with Sector Experts – Marina Dawson | Charity Village
A panel discussing the implications of Statistics Canada's findings in their survey exploring the diversity of charity and nonprofit boards in Canada, as well as how organizations can build a more diverse and equitable sector.
Diversity of charity and non-profit boards of directors: Overview of the Canadian non-profit sector – Statistics Canada
A crowdsourcing survey of individuals involved in the governance of charities and non-profit organizations to learn more about the diversity of those serving on their boards of directors.
Four Directions Teaching Tool – Jennifer Wemigwans
FourDirectionsTeachings.com honours oral traditions by creating an environment where visitors are encouraged to listen with intent as each elder/ traditional teacher shares a teaching from their perspective on the richness and value of cultural traditions from their nation.
Indigenous Terminology – University of British Columbia
An introduction to Indigenous terminology.
Introduction to Reconciliation Webinar – The Tamarack Institute | Reconciliation Canada
An introduction to reconciliation through a webinar with the Tamarack Institute and Reconciliation Canada.
OISE Developed Guide for K-12 Education – University of Toronto
To help educators find materials that centre or focus on First Nations, Métis, and Inuit worldviews, experiences and knowledges for teaching in the K-12 classroom.
Reconciliation Canada – Useful Links – Reconciliation Canada
Visit Reconciliation Canada's useful links list, toolkits about how to start a reconciliation conversation, national narratives on reconciliation, and more.
---
Accessibility Resources
Accessibility Labs – Theatre Passe Muraille
A 7-part short documentary series on Theatre Passe Muraille's experiments in accessibility practices exploring artistic and dramaturgical integration as well as more efficient budgeting.
This tool is built for designers and developers to test colour contrast compliance with the Web Content Accessibility Guidelines (WCAG) as set forth by the World Wide Web Consortium (W3C).
Disability Justice & Programming – Mobility Accessibility and People Management – Orchestras Canada
The first portion of this session covers a Disability Justice framework for understanding accessibility. The second part discusses making the performing arts more welcoming to folks with mobility disabilities and dives deeper into how organizations can manage people, on and off stage, with accessibility front and centre.
Network Connector – Creative Users Projects
Network Connector is an online community for Deaf and disabled artists and their friends and family to discover community and connect with other like-minded creatives.
This program estimates the readability of a passage of text using the Flesch Reading Ease, Fog Scale Level, Flesch-Kincaid Grade Level, and other metrics.