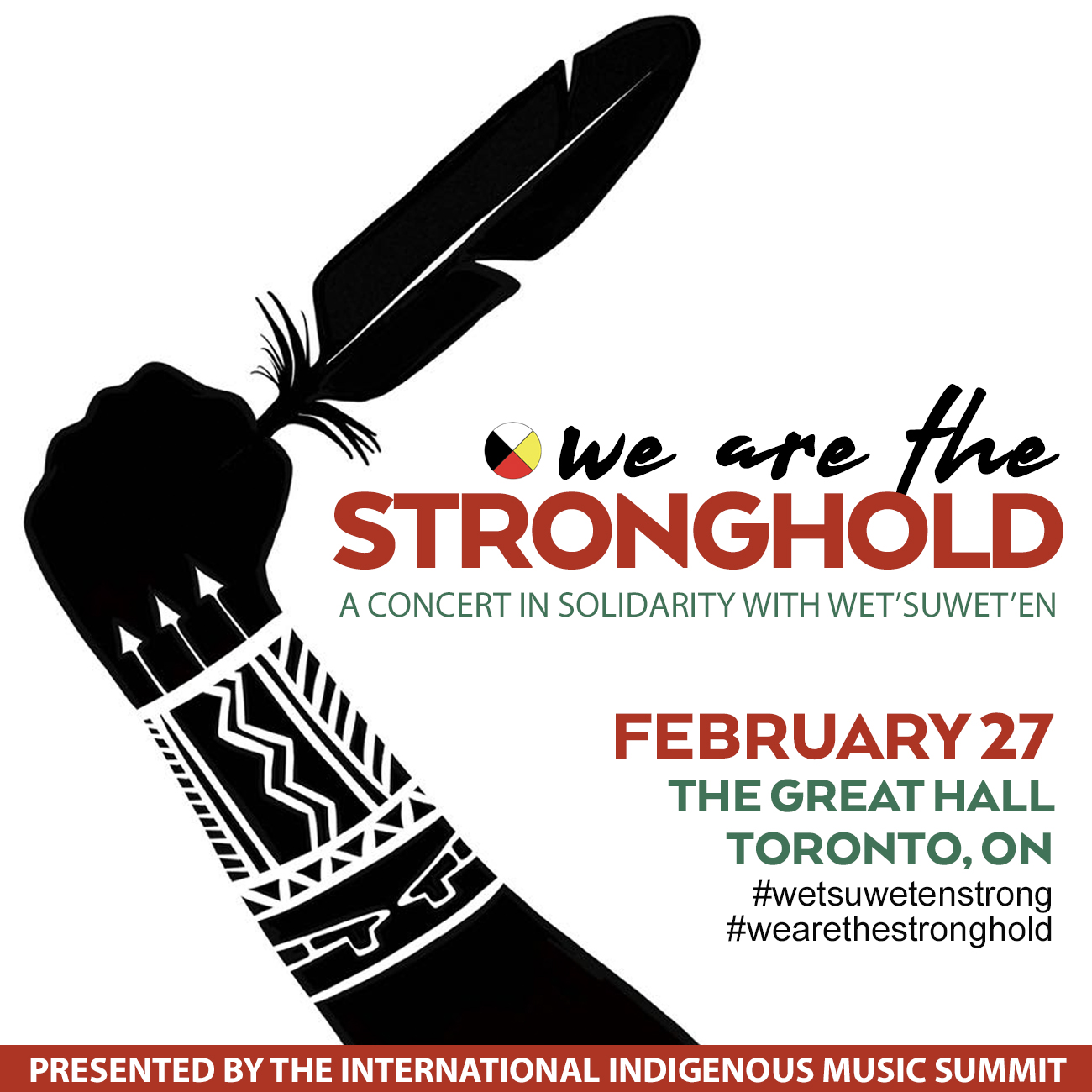 We Are the Stronghold – Solidarity Concert for Wet'suwet'en in Tkaronto February 27!
Posted on
February 24, 2020
In solidarity with action taking place on unceded and sovereign Wet'suwet'en territory and in support of the hereditary chiefs and land defenders holding the line, The International Indigenous Music Summit launches WE ARE THE STRONGHOLD: A call to action for Music, Ceremony & Celebration.
WE ARE THE STRONGHOLD now shares its lineup, which includes musicians, poets, speakers and community leaders. More info to come.
AMANDA RHEAUME * BEAR WITNESS OF A TRIBE CALLED RED
CHANTAL KREVIAZUK * CHARGING HORSE SINGERS
CRIS DERKSEN * DIGGING ROOTS * JULIAN TAYLOR
NEW TRADITION MUSIC * SARAIN FOX
WITCH PROPHET * ZOEY PRICELYS ROY
AND MORE
WE ARE THE STRONGHOLD: Music, Ceremony & Celebration is a multi-location concert series and social media event in appreciation of the transformational work being done now on behalf of future generations. WE ARE THE STRONGHOLD events include a benefit concert at The Great Hall, Tkaronto on Thursday, February 27. Proceeds will support RAVEN TRUST, the legal defense fund of Wet'suwet'en protectors of land, air and water. Buy tickets or donate here.
WE ARE THE STRONGHOLD CALL TO ACTION & TOOLKIT can be found here.
This collective action, inspired by a vision of peace and unity, opens spaces where everyone is welcomed to participate in a global movement of solidarity and empowerment. Information on partner events, lineup details, the Global Round Dance and more will be announced soon.
"We are very proud to be a part of an amazing network of artists and creatives around the globe who are answering the call for peaceful and respectful action," says ShoShona Kish, International Indigenous Music Summit and We Are The Stronghold organizer. "This is the movement of our time. Our collective response to the critical issues of Indigenous rights, climate change, and the growing political and social divisiveness, will be our legacy. We stand in solidarity with Wet'suwet'en and raise our voices for the land, the water, and past, present and future generations."
ABOUT INTERNATIONAL INDIGENOUS MUSIC SUMMIT
The International Indigenous Music Summit recently took place in Bulbancha/New Orleans for its second gathering. The Summit welcomed Indigenous creators, leaders, Elders, community members and allied industry members for expansive roundtable discussions and artist showcases to imagine, connect and work towards fostering a music industry model rooted in Indigenous experiences and values. WE ARE THE STRONGHOLD is an exciting organic extension of the Summit's work to amplify and hold space for collaboration and collective action in support of Wet'suwet'en.
ABOUT RAVEN
RAVEN engages people to donate, organize, and crowdfund to provide financial resources so that Indigenous Nations in Canada can access the justice system. We stand behind Nations who take legal action when industrial development threatens traditional ways of life, human rights, or the ecological balance upon which we all depend.
When crafting a legal strategy to push back against Coastal Gas Link and assert their rights in court, Wet'suwet'en clan and hereditary leaders reached out to RAVEN and asked for the organization's support.
After the legal advisory board, comprised of Indigenous and non-Indigenous lawyers and legal scholars, examined the legal challenges, RAVEN signed a Memorandum of Understanding (MOU) with Wet'suwet'en hereditary chiefs, committing to fundraise on their behalf for two legal challenges.
For more information about the case and beneficiary organization, RAVEN, please email Ana Simeon ana@raventrust.com.