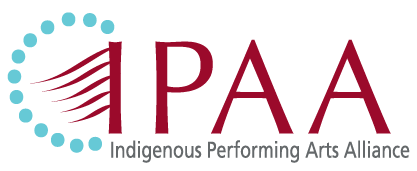 IPAA is HIRING: Program Manager
Indigenous Community Performing Arts Fund

Program Manager
The Indigenous Performing Arts Alliance is seeking a dynamic, program delivery focused individual to manage the next stage of development and operation of the Indigenous Community Performing Arts Fund. This position will be supported by two Regional Program Coordinators located in Northeast and Northwest Ontario.
Key Information

Job Term: July 6, 2020, to June 30, 2021, with possibility of extension

Hours: Average of 30 hours per week including some travel and work on evenings/weekends

Salary: $40,000 per annum

Location: IPAA offices, 180 Shaw St., Suite 208, Toronto
About IPAA

The Indigenous Performing Arts Alliance (IPAA) is a member-driven organization serving professional Indigenous performing artists and arts organizations across Canada. IPAA serves as a collective voice for its members and for Indigenous performing arts in Canada. IPAA provides leadership, support, representation, advocacy, and practical assistance for the national development of Indigenous performing arts. IPAA connects Indigenous performing artists, opportunities, and communities through a collective voice, generosity, and inclusion.

IPAA is a grassroots organization that is growing its voice and presence in the community. Our focus is to create opportunities of a new group of Indigenous presenters to be supported, hosting performances on reserve. The coordinators will assist in expanding the current presenters through their established networks in the performing arts.
Project Background

IPAA is working with the Department of Canadian Heritage to develop a network that will create new opportunities for Indigenous communities in Ontario to present Indigenous performing artists in their local spaces and venues.

After a province-wide consultation process, a pilot program was launched in 2019, starting with seven Northern Ontario communities who formed a touring network for Indigenous storytelling, music, dance, and theatre performances in their communities.
What We Are Looking For

At its heart, the Indigenous Community Performing Arts Fund is about connecting people and building community. It's about bringing artists into community in ways that go beyond performing one night and moving on. As the Program Manager, you bring:

-An eye for detail and critical thinking – You have strong administrative skills including budgeting, logistics and other administrative tasks;

-Experience with event Coordination – you have a track record of success in event planning and delivery;

-An ability to build respectful, supportive relationships – because of your experience working with and in Indigenous communities in Ontario, you're able to listen deeply, to understand what a community is seeking;

-A strong capacity as a self-starter – this project involves a lot of independent work, and problem solving, with many overlapping relationships and timelines to manage;

-A passion and appreciation for Indigenous arts – this may include experience presenting arts events or programming;

-Interest in and/or experience with Indigenous protocols, Traditional Knowledge, and language(s);

-A valid driver's license – and a willingness to travel and drive rental vehicles
Duties of the Program Manager

The Program Manager is responsible for implementing the second year of the Indigenous Community Performing Arts Fund and coordinating the second round of presenting and outreach activities with the pilot touring network, working in collaboration with the Regional Program Coordinators.
Responsibilities
Network Coordination:

-Liaise with the Executive Director and Regional Program Coordinators;

-Recommend live artistic performances suitable for communities, in consultation with Hosts;

-Support and attend Host community teleconference meetings;

-Plan and implement the annual gathering of Hosts communities and other stakeholder partners.
Outreach and Communications

-Oversee development of content and promotional materials including social media posts, and publicity for events;

-Articulate the outcomes of the project for wider IPAA membership and government funders through the development of reports;

-Propose and write content for the IPAA website;
Grant Program Management
-Manage the Indigenous Community Performing Arts Fund (ICPAF) budget;

-Answer questions and provide ICPAF granting information to interested parties;

-Receive and process requests for funding;

-Collect and consolidate reports (qualitative and quantitative) from artists, hosts, and community members;

-Analyze project results;

-Create forms and documents needed for effective and clear delivery of the program;

-Liaise with the Department of Canadian Heritage (PCH), ensuring all obligations set out in the agreement with PCH are met.
Artist Directory and Strategic Development
-Gather detailed information for the Indigenous Live Performing Arts Directory, housed on the IPAA website;

-Identify potential funding opportunities for this initiative;

-Write grant applications and write reports as required, setting out critical path of deadlines and potential opportunities;

-Evaluate impact and future opportunities for growing the program.
Tour Coordination

-Coordinate tour logistics;

-Artist negotiation and contracting;

-Coordinate Showcase events.
Application Process

Please submit one PDF file containing a resume (including 3 references) and cover letter to info@ipaa.ca and reference the job title by May 1, 2020. Be sure to explain what experience you bring to each of the items under 'What we are looking for' in your application. Only applicants selected for interviews will be contacted by June 1, 2020.