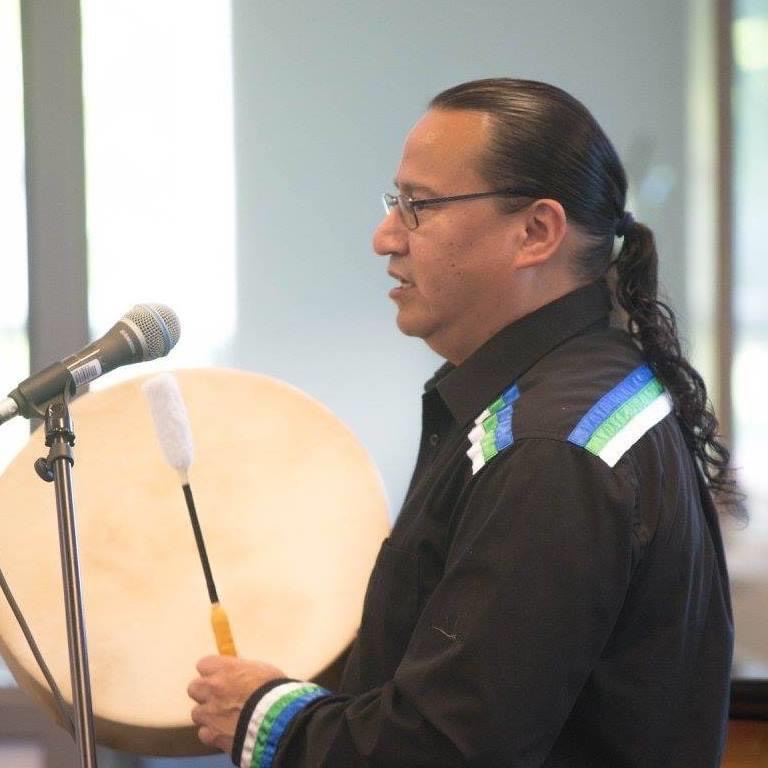 Welcome David Wilkinson-Simard to the IPAA team!
IPAA is very happy to be welcoming David Wilkinson-Simard as our newest member of the team! David joins us as the regional coordinator for North West Ontario and brings with him a wealth of experience working in Indigenous performing arts!
David has been active in the First Nation music and art scene since the age of 12 with the mentoring and guidance of the late Dr. Richard Lyons and the Lyons Dance Group. Dr. Richard Lyons and the Thunder Bay Singers were largely responsible for the revival of First Nation culture and heritage in the northern Ontario region. He performed at various events with the Lyons Dance Group and began singing with the Thunder Bay Singers. It was through this mentorship and guidance that he found his own creative path and a new group the Thunder Mountain Singers.
The Thunder Mountain Singers influences included songs and teaching from the late Alex Skead from the Lake of Woods area, Eagle Lake area and Rainy River area in Treaty Three. Thunder Mountain began composing and performing their own style of singing and as they looked to separate their sound from other groups from that time. Thunder Mountain recorded seven albums internationally. Their work includes collaborations with Rodney Brown, Pierre Shreyer, ShyAnne Hovorka and the Thunder Bay Symphony. They were nominated by the Native American Music Awards, Canadian Aboriginal Music Awards and won the Indigenous Peoples Choice Music Award for Best Traditional Album. They also won the Thunder Bay Arts and Heritage Award and received the City of Thunder Bay Best Citizens Award.
His work includes First Nation Performing Arts events at the Lakehead University and Magnus Theatre featuring storytelling through the songs and dances featuring Thunder Mountain Singers. His work also includes the creation of the Northern Woodland Ojibway Dance Group that performed at schools throughout Thunder Bay.
His interests in performing arts and fashion have resulted in various shows in Thunder Bay. His work includes the Thunder Bay National Indigenous Day Fashion Show 2010 and the Thunder Bay Folklore Festival International Fashion Show 2010 and recently returned to work with the Lakehead University Aboriginal Initiatives Spring Fashion show 2020 with 2 projects in 2021.
His most recent works include Thunder Bay Special Olympics Opening Ceremonies, Thunder Bay summer in Parks Performances 2020, Superior Arts Festival 2020 and Thunder Bay Symphony collaboration with the Thunder Mountain Singers 2021
David is from the Kingfisher Clan from Obishkokaang FN in the Treaty Three Territory.
Please join us in welcoming David to the team!