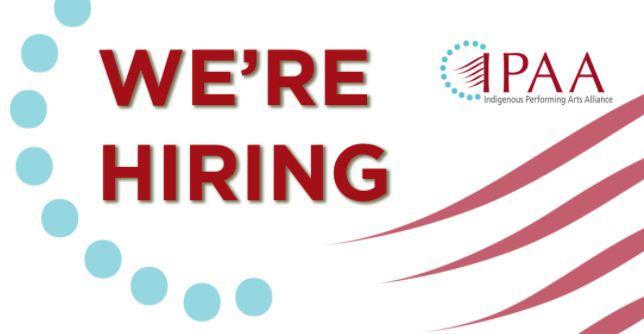 Job (Remote): Workshop Coordinator
Posted on
December 20, 2022
IPAA is a member-driven organization serving professional Indigenous performing artists and arts organizations across Turtle Island. IPAA provides leadership, support, representation, advocacy, and practical assistance for the national development of Indigenous performing arts.
---
We are looking to hire a community-minded arts and culture worker interested in coordinating and implementing our digital workshop offerings for our membership. This position is remote, work from home.
Duration: Contract position, approximately eight (8) bi-monthly workshops
Fee: $4000
---
Duties and Responsibilities
Research and plan digital workshop series for IPAA's membership
Engage with arts and culture leaders
Confirm the workshop schedule, list of topics, and workshop leaders w/ Membership & Services Manager
Prepare and track workshop contracts
Manage workshop budget
Prepare all workshop materials, including newsletter and social media communications to our membership about workshops
Prepare WordPress calendar of events on IPAA's website
Coordinate with workshop technicians leading up to and during events
Prepare a final report at the end of the workshop series.
The Ideal Candidate will have
Familiarity with Indigenous arts and culture and/or the performing arts (theatre, music, dance)
Previous administration experience
Good time-management and organisational skills; be self-motivated
Strong interpersonal skills; be community-minded
Ability to operate online tools: WordPress, Zoom, Microsoft Office, Google workspaces, social media channels, etc.
Ability to work independently and in team environments
Bilingualism (Indigenous languages and/or French) is an asset, not necessary.
Additional Information
Please submit a letter of interest and resume to info@ipaa.ca.
Everyone is welcome to apply. Applications from First Nations, Metis, Inuit, Black, and People of Colour will be prioritized.
The call remains open until the role is filled.