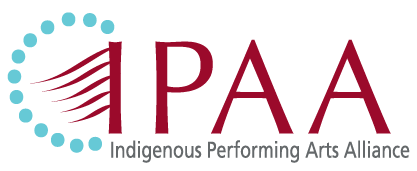 IPAA is Seeking Out a Dynamic Individual to Join the Team!
IPAA continues to grow and as we strive forward we recognize the need to expand the team!
The Indigenous Performing Arts Alliance is seeking a dynamic, community-focused individual, based in Northeastern Ontario, to play a key role in the next stage of development and operation of the Indigenous Community Performing Arts Fund. The Regional Program Coordinator will serve as principal resource to the network communities and to the local individuals acting as hosts in those communities. Working with the Program Manager, they will assist in the execution of the second year of the Indigenous Community Performing Arts Fund by providing outreach support, developing new regional relationships and providing mentorship to the pilot communities within the established network. IPAA is currently engaging community presenters in Northeastern Ontario, including: Sault Ste Marie, Sudbury, Bear Island.
Key Information
Job Term: September 14, 2020, to September 13, 2021, with possibility of extension
Hours: Contract position, hours as needed; including some travel and work on evenings and weekends
Salary: $12,000 per position
Location: Remotely from Northern Ontario, must be residing within 50 kms of one of the above named communities.
About IPAA

The Indigenous Performing Arts Alliance (IPAA) is a member-driven organization serving professional Indigenous performing artists and arts organizations across Canada. IPAA serves as a collective voice for its members and for Indigenous performing arts in Canada. IPAA provides leadership, support, representation, advocacy, and practical assistance for the national development of Indigenous performing arts. IPAA connects Indigenous performing artists, opportunities, and communities through a collective voice, generosity, and inclusion.
IPAA is a grassroots organization that is growing its voice and presence in the community. Our focus is to create opportunities for a new group of Indigenous presenters to be supported, hosting performances on reserve and in community. The coordinators will assist in developing the current presenter network through their established connections in the performing arts.
Project Background
IPAA is working with the Department of Canadian Heritage to develop a network that will create new opportunities for Indigenous communities in Ontario to present Indigenous performing artists in their local spaces and venues.
After a province-wide consultation process, a pilot program was launched in 2019, starting with seven Northern Ontario communities who formed a touring network for Indigenous storytelling, music, dance, and theatre performances in their communities.
What We Are Looking For
At its heart, the Indigenous Community Performing Arts Fund is about connecting people and building community. It's about bringing artists into the community in ways that go beyond performing one night and moving on. As the Regional Program Coordinator, you bring:
An ability to build respectful, supportive relationships – because of your experience working with and in Indigenous communities in Ontario, you're able to listen deeply, to understand what a community is seeking when they work with artists;
A talent for making connections – once you understand a community or an artist's needs, you're able to identify and connect them with the resources that will make them successful;
A strong capacity as a self-starter – this project involves a lot of independent work, with many overlapping relationships and timelines to manage;
A passion for Indigenous arts – this may include experience producing arts events or programming;
Interest in and/or experience with Indigenous protocols, Traditional Knowledge, and language(s);
A valid driver's license – and a willingness to drive rental vehicles to and in network communities.
Specific responsibilities include:
Share knowledge and experience with community members taking on the hosting role for the performances/workshops/residencies (capacity building)
Assist the host communities in expanding the number of community members involved in the initiative
Assist the host communities in promotion and outreach to secure audiences for performances and workshops
Attend performances and workshops carried out by the host communities, and report back to the program manager
Provide advice as to potential artists to tour through the network
Duties of the Regional Program Coordinator
Network Support and Development

Identify and provide guidance and mentorship to strengthen core capacity in event management and logistics for community hosts in each region;
Helping community hosts expand their support networks in support of the development of the network;
Chair network meetings by teleconference;
Recommend live artistic performances suitable for communities, in consultation with Hosts;
Provide support for the planning of the annual gathering of Hosts and other stakeholder partners.
Support the Program Manager in writing of reports and provide input as required;
Outreach and Communications
Identify potential new host communities to join the network in each region (funding permitting);
Identify and propose new networks and stakeholders for the promotion and dissemination of ongoing tours;
Articulate the outcomes of the project for wider IPAA members, and communicate the model as a resource for other communities.
Application Process

Please submit one PDF file containing a resume (including 3 references) and cover letter to info@ipaa.ca and reference the job title by August 14, 2020. Be sure to explain what experience you bring to each of the items under 'What we are looking for' in your application. Eligibility for this position is limited to Indigenous (including First Nations, Inuit, and Métis) applicants. Only applicants selected for interviews will be contacted by September 4, 2020.