About Intertribal Gathering
IPAA's Intertribal Gathering travels to different communities each year, featuring local artists in Indigenous performance showcases, spotlighting Indigenous leaders in the region and encouraging national artistic leaders to connect with the work emerging across Turtle Island (North America). The Gathering will feature showcase performances by some of Canada's top Indigenous theatre, dance, and musical performers.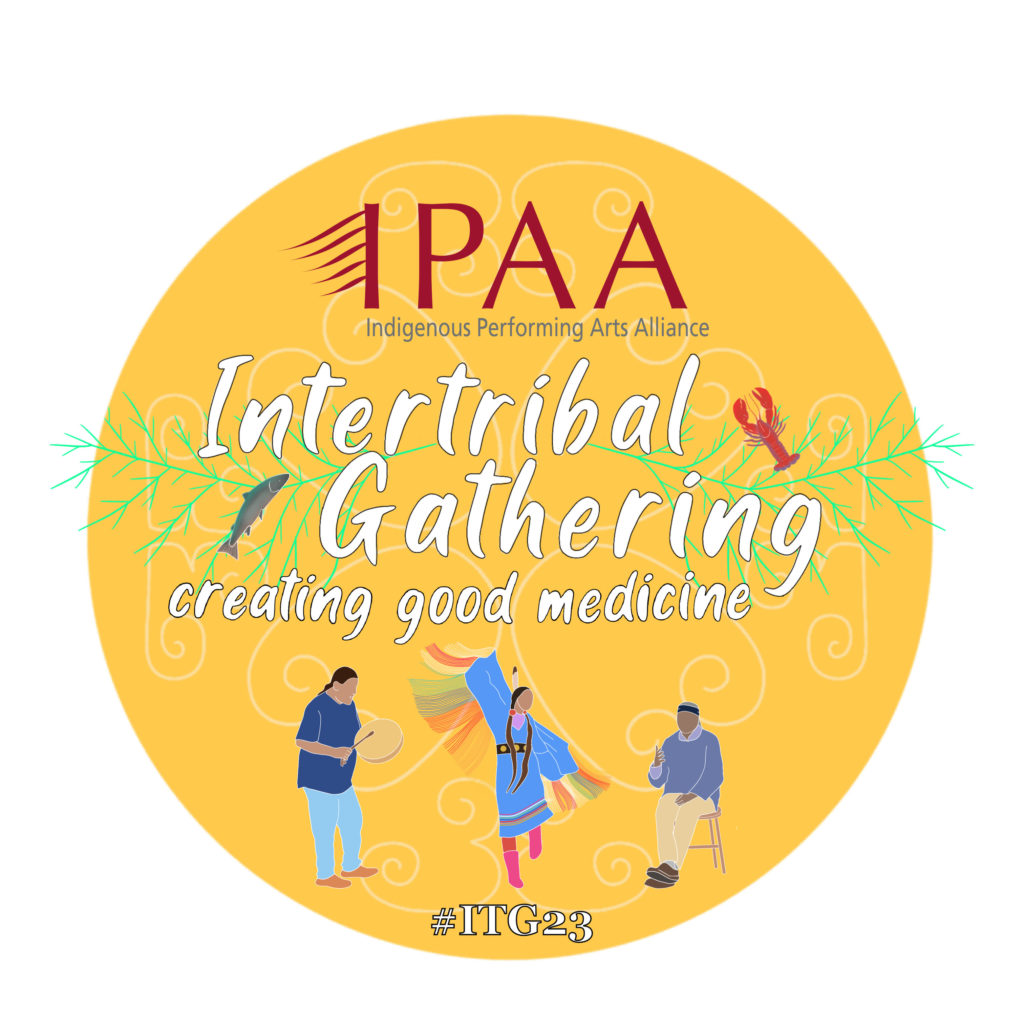 #ITG23 – Kjipuktuk (Halifax)
Mark your calendars!
Intertribal Gathering returns in-person on May 10-12, 2023, in beautiful Kjipuktuk, (also known as Halifax).
Kjipuktuk is the Mi'kmaw word for Halifax and loosely translates to "The Great Harbour." Halifax has been home to the Mi'kmaw people for centuries and we are grateful they are hosting #ITG23 on their territory this Spring.
ITG23 will bring together Indigenous arts-makers and allies to Kjipuktuk for three days of sector-focused discussions, networking, performances, and of course, lobster.
ITG23 will follow the Open Space, non-hierarchical conference model. This means that attendees will have the opportunity to set the discussion topics for the conference. Attendees are encouraged to submit discussion themes as part of the registration process, and these themes will help guide the discussions.
ITG23's themes are:
Making Good Medicine: How can we as artists and arts professionals come together after 3 years apart, and how can we take care of our mental and physical health going forward?
Building a Stronger Sector: What does the performing arts sector look like after it was completely upended by the pandemic? How do we build a better, more sustainable sector?
ITG23 will also feature showcase performances by some of Canada's top Indigenous theatre, dance, and musical performers.
IPAA recognizes the generous contributions of the Department of Canadian Heritage, the Canada Council for the Arts, the Ontario Arts Council & The Toronto Arts Council
Registration Info
Dates:
Wednesday May 10, Thursday, May 11, Friday, May 12, 2023
Programming will begin at mid-afternoon on May 10, so attendees are encouraged to arrive early or the day before.  
Programming will conclude the evening of May 12. 
Registration Process:
Click here to register. Once you have done so, return to this web page to pay your registration fee (if applicable. Then, click the hotel link above to book your hotel, and book your own flight.
Accommodation:
Rooms are available at Hotel Halifax at a discounted rate ($164/night) until April 14, 2023 
Travel:
Attendees are responsible for their own travel to and from Halifax
Food:
Meals included: Lunch each day, Breakfast Thursday & Friday, Dinner Wednesday & Friday
Fee:
IPAA Members Indigenous Artists, and Indigenous Organizations: Free
Ally organizations, non-Indigenous Artists & non-members: $225 
Payment
Once you have registered, click the PayPal Link below to pay your registration fees. Please check 'Ship to Billing Address'. We will not actually be shipping anything.
As a reminder, registration is free for IPAA Indigenous Artist Members and IPAA Indigenous Organization members.
Call for Gathering Hosts!
IPAA's Intertribal Gathering travels to different communities every two years.
If you manage a venue or facility and would like to host the next gathering in your community please let us know by emailing info@ipaa.ca.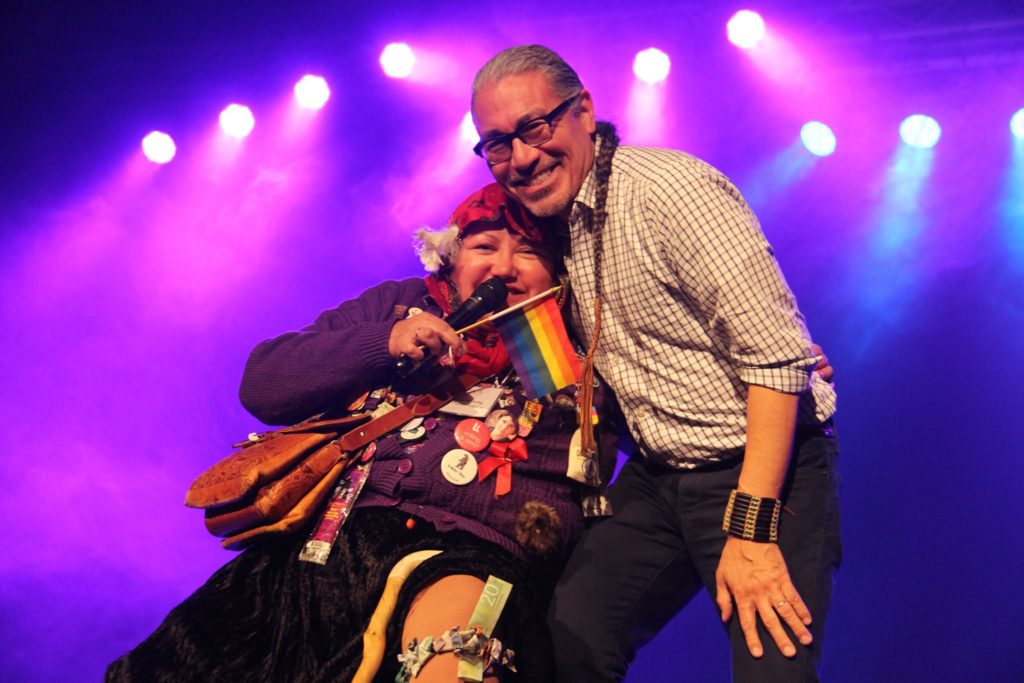 Past Intertribal Gathering Host Cities
2013 Ontario Showcase at Cahoots Theatre, Toronto
2014 Prairie Showcase at La Cite, in collaboration with Saskatchewan Native Theatre Company, Saskatoon, SK
2015 Indigenous Language Showcase at Native Earth Performing Arts in collaboration with Aluna Theatre, Toronto
2016 Northwestern Showcase at Da Kų Cultural Centre in collaboration with Aboriginal Curatorial Collective in Haines Junction and Whitehorse, Yukon
2018 Urban and Rural Arts Showcase at Aanmitaagzi (The Big Medicine Studio) in North Bay, ON
2021 Intertribal Gathering, Online Edition
2022 Coming soon!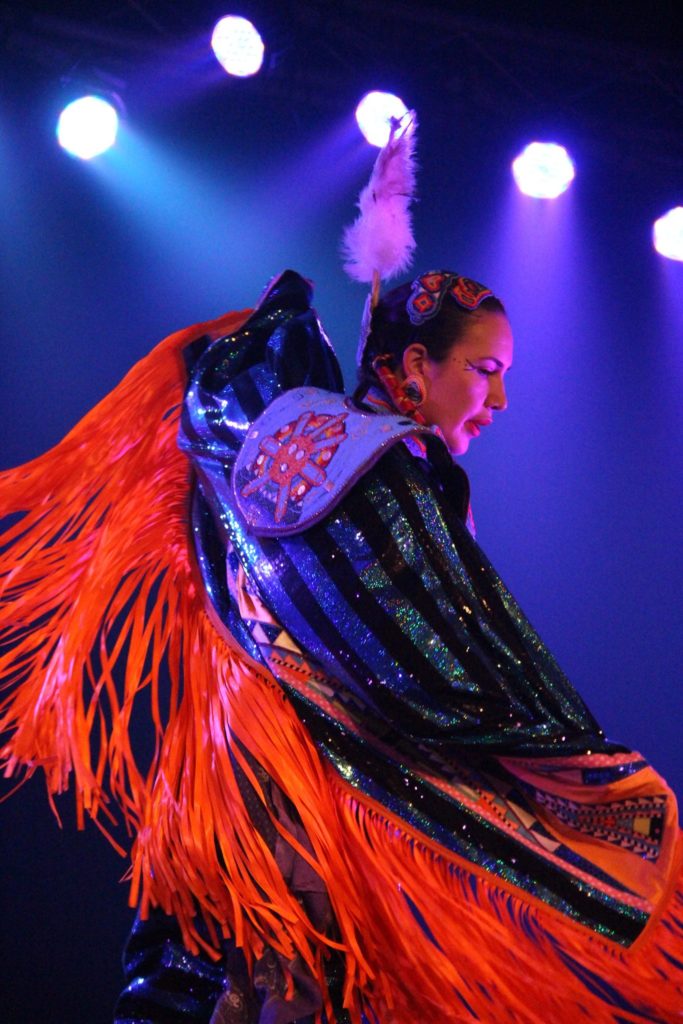 ---
Last Year's Intertribal Gathering Highlights
March 17 – MUSIC Showcase
IPAA Launches Tech Bundles program
Showcase: Brothers Wilde – Emerging Artist
Community Consultation: Visioning the Future of Indigenous Arts Leaders
Artist Talk w/ Beatrice Deer
March 24 – DANCE Showcase
Presentation on the Northern Presenters Network
Workshop: Virtual Touring for artists and arts managers
Showcase: Dakhka Khwaan Dancers
Artist Talk w/ Marilyn Jensen
Showcase Event – Raven Spirit Dance
Artist Talk w/ Raven Spirit
Presentation from La Danse Sur Les Routes du Quebec
March 31 – THEATRE Showcase
Showcase Event – Bears by Matthew MacKenzie
Artist Talk w/ Matthew MacKenzie
Presentation from Kevin Loring on Indigenous Theatre at the National Arts Center
Workshop: Funders update on COVID-19 Strategies
Showcase: Gwaandak Theatre Performance Video
Artist Talk w/ Colin Wolf of Gwaandak Theatre
A huge thank you to G.R. Gritt for hosting the 2021 online edition of the Intertribal Gathering! Check out their music at: https://www.grgritt.com/.